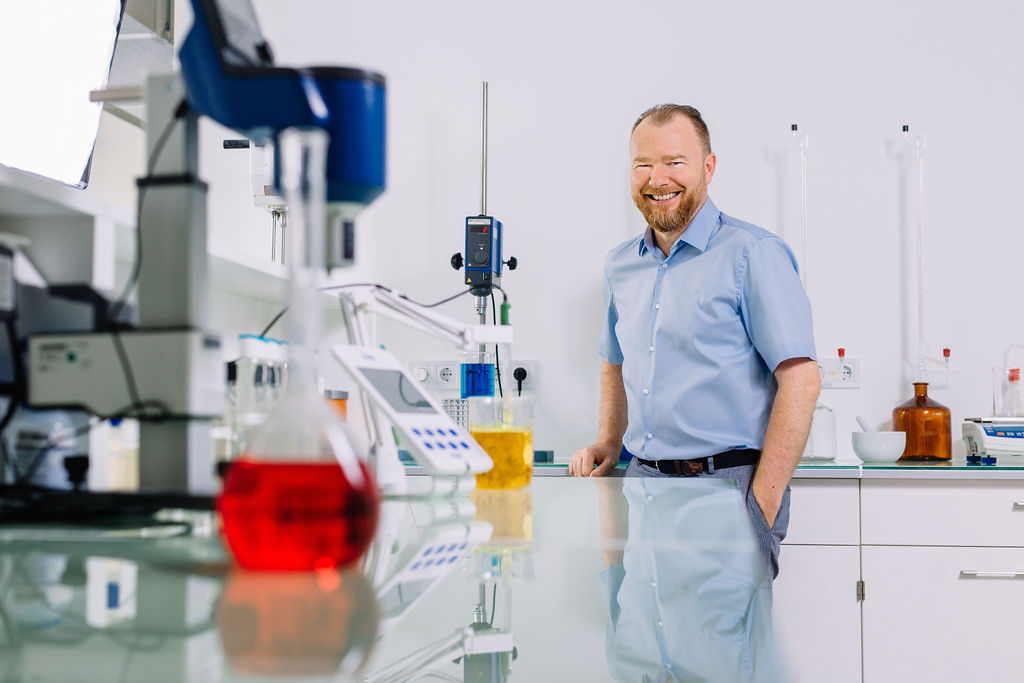 Attila Barta, Company Manager
The history of Florin dates back to the late 1950s, when a cooperative business started in Szeged making soap, followed by other cosmetic products. By the political changes in 1989-1990, Florin was already one of the three major Hungarian manufacturers of household chemicals and cosmetics, but the company's long history was on the decline. Production was outdated due to a lack of necessary investment and could not compete with multinational companies. In 2006, a new owner came in, who turned the company into a manufacturer of premium cosmetic products, neglecting the other products. However, his calculations were thwarted by the economic crisis of 2008; the concept failed, and the Szeged-based company was operating with monthly losses of EUR 20-30 million, and by the end of 2011 it had become completely insolvent.
At that time, Attila Barta, who knows the household chemicals market well, joined the company. Florin's CEO once worked as a paramedic and went into the trade as a second job. Having worked his way through all the stages of the profession, he founded his company in 1998, which is still in operation today, for the distribution of household and chemical products.
Originally, he wanted to hire Florin for contract manufacturing, but ended up buying the long-established but endangered company.
"We immediately let go of the failed premium cosmetics strategy and brought out the company's old, well-known products. We upgraded them, priced them properly and renegotiated their sale with the retail chains. It wasn't easy:, according to the model of the time, there were cases when a product manufac- tured at a cost price of HUF 100 was bought for only HUF 70 by the supermarkets, so everything had to be restructured", recalled Attila Barta.
In terms of products, they didn't want a hundred and one shampoo or dishwashing products, so they tried to find cat- egories where the multinationals were less strong, but where they could offer solutions to real consumer needs. Such as the decades-old Sana range of foot care products, which has its competitors but they cost twice as much. Several surveys were carried out so they could know how to respond to consumer needs. Florin also regularly participated in international exhibitions, took over the production of several well-known Hungarian brands, started intensive product development and steadily increased its exports. It did these so successfully that it was included in the Hungarian Multi Programme.
According to the CEO, 2012 was the most difficult year in the company's history. After taking over, week after week he was confronted with how bad the situation was. It is a good illustration of the situation at the time that, while a lending bank would normally ask companies for a report once a year, they had to send one every week. The bottom was reached. In 2013, losses decreased, 2015 closed with a modest profit and, since 2018, sales revenue has exceeded HUF 2 billion. It was at this stage of development that Florin found itself confronted with the outbreak of the coronavirus pandemic in spring 2020. Florin has been producing hand and skin disinfectants under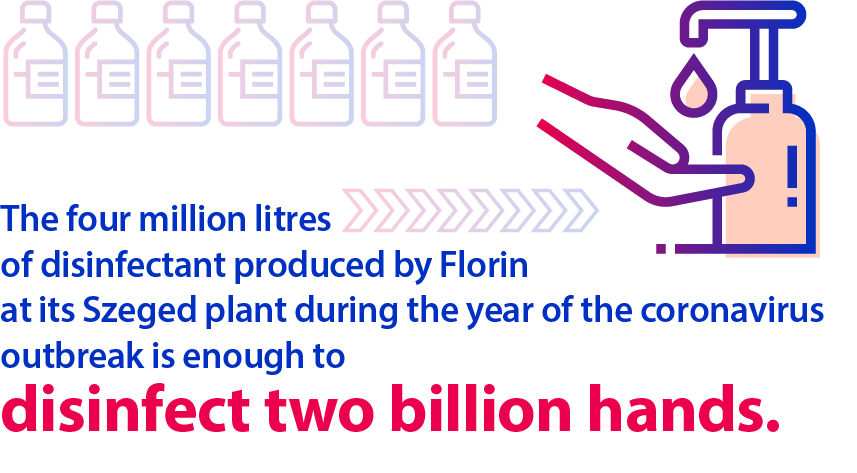 the Brado brand for decades. For a long time, it was only used in hospitals and healthcare, and eight years ago a version for the retail market, the Brado Life range, was launched. Their sales revenue already started to grow in February 2020 and took off in March—no wonder the company's 2020 sales revenue jumped to HUF 6.5 billion.
"First, we extended working hours, then we introduced twenty-four hour shifts. We had to stop production of all other products to make disinfectants on all the lines", said Attila Barta.
Thanks to this, 4 million litres of disinfectant were produced at Florin Zrt's Szeged factory during the year of the pandemic, and 17 million units were distributed to hospitals, public institutions, schools and shops.
Long-term plans to improve production were in place before the pandemic, but last year everything had to be ramped up. In a matter of weeks, Florin built a new production hall and capacity that would normally have taken up to a year. At the end of 2020, the company embarked on the second phase of the comprehensive development under the Healthcare Industry Support Programme. As a result, the second hall, where the HUF 2 billion investment also included the purchase of automated production lines, was completed by June 2021. They now have one of the most modern domestic household and healthcare chemicals plants, and every part of the new 4,500 square metre facility is capable of producing disinfectants, so they can supply Hungary on their own if needed.
Attila Barta is not worried that the company, which has been expanding its capacity at lightning speed, will run into trouble if demand for disinfectants falls as the epidemic subsides. "Residential use is indeed down, but institutional and public use is stable. We are also constantly looking for export opportunities: when the full production capacity is ready, we'll be able to undertake larger-volume foreign deliveries, and we'd like to become a dominant player at regional level as well", the CEO emphasised. The cosmetics sector is also evolving, with a growing range of products made from natural ingredients. In addition, they can offer their capacity for further contract manufacturing—for example, they are currently producing body spray for a Dutch company, but they also export to a number of countries. So there is no fear that the production lines will be underutilised.
Florin currently has 110 employees, and the number could rise to 200 during peak production periods. Because it is difficult to find competent professionals, the company also runs its own training programmes. This also fosters loyalty, so staff turnover is not a problem for them.
The past one and a half years have also seen a restructuring of the Hungarian market for healthcare disinfectants. While the dominance of the big foreign companies used to be overwhelming, Florin has now managed to break through and win stable orders from hospitals. Attila Barta, who, as a trader, has experienced how the Hungarian household chemicals manufacturers with a long history go bankrupt or shrink, has set himself the goal of rebuilding the manufacturing capability and know-how that existed in Hungary in 1990, and setting an example for other sectors.