Ákos Füzi, Founder
Before starting his own company, Ákos Füzi worked for several large companies. He started his career at Richter, then represented Hungarian pharmaceutical companies in Japan for four years as head of the Medimpex trading house. He started working in energy IT in 2005. This was the period when the liberalisation of the energy market was taking off.
"It was obvious that basic business processes in the energy sector would also be based on IT systems that did not exist at the time, and that would have to adapt to the regulations that changed from country to country. "During my assignment in the Far East, I learned that it is worth specialising in niche markets. And this looked like a promising area. In our first big project, we had to provide third-party access to a natural gas system. So, based on this idea, in 2008 I set up my own company, Navitasoft, then called IP Systems", says the founder.
For the first two years, they didn't even have to advertise themselves as a company specialising in energy IT. Even without marketing campaigns, customers kept coming. A significant proportion of them were gas market traders at the time.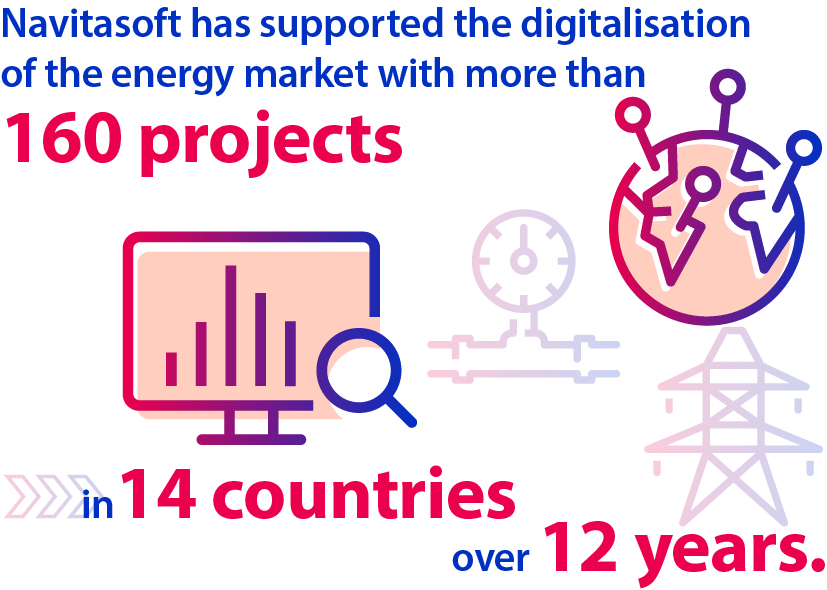 Although they started in the middle of the economic crisis, they felt virtually nothing of the crisis. While a lot of companies in the industry around them were struggling, they were doing pretty well. A year and a half after launch, they already had an energy trading platform capable of managing a combined electricity and gas trading portfolio.
Ákos Füzi broke with the usual management methods and decided to introduce the Japanese management culture to Hungary. They were among the first in Hungary to apply the Scrum management methodology. The company is based  on cross-functional teams, usually consisting of four software developers, a business analyst and a tester, and these specialists from different areas work together at all stages. Corporate goals are achieved along the lines of the teams' commitments. Mornings at the company start with a stand-up meeting at all levels and in all areas. In their teams, employees and managers tell each other where they are in their work and what they are going to work on. These meetings were also held online during the coronavirus pandemic, which helped a lot, in that the implementation and follow-up of projects was not a problem while working from home.
In any case, it is not easy to secure new talent. Competition for good IT specialists is fierce, but Navitasoft has successfully overcome the obstacles. A very strong team has come together under the umbrella of the company. They currently employ around 60 people, who have over 80 degrees in total. In addition to Budapest, they have set up their own office in Subotica, Serbia but, as the IT profession has the advantage of not necessarily having all their staff in one building, they also support working from home.
The company's ability to make a mark in the West became clear in 2011, when they received their first order from a Swiss company, which was then followed by others. It soon became clear that they were not lagging behind Western IT companies in either knowledge or software technology. Their software is used by large energy companies in Latvia, Croatia, Estonia and Ukraine for key business processes.
Their responsibility is not small: one serious mistake can lead to the collapse of electricity or gas settlements in a whole country.
The company has generally grown steadily, but it has also had its low points. The biggest of these was in 2017, when the company had to lay off almost 50% of its workforce because a job abroad fell through. It is a feature of their own sector that they not only compete with their rivals but sometimes even work together. A good example of this is their largest project to date, which involved the creation of a central IT system for Ukrenergo, the Ukrainian electricity market operator.
It was a serious challenge, because it is an energy market ten times bigger than Hungary's, and Ukraine is a country where many Western companies do not dare to set foot. Navitasoft was the consortium leader for the more than USD 8 million project, but they also worked with companies such as Siemens in Austria.
One of their advantages, according to the CEO, is that they not only have custom developments, but also a large product portfolio from which their customers can choose. Their ready-to-use solutions fall into three categories: solutions for system operators, traders and players interested in energy market communication. One of their most successful years was when they added three new products to their range at the same time.
There was also a time in Navitasoft's life when the founder was not at the helm. Ákos Füzi established a subsidiary in Shanghai as a delegate of Egis Zrt. in 2013, but returned in 2017. "These four years were a good opportunity to outgrow the culture of one-man leadership", said Ákos Füzi.
Although they are feeling the negative effects of the COVID epidemic, as it is harder to recruit and attract new customers, there are however some benefits as well. One is that the acceptance of cloud technologies has increased dramatically during the pandemic. Now that more and more compa- nies are switching to working online, business leaders have become more open to online and cloud-based solutions. In addition, Ákos Füzi adds that meetings have also become more efficient.
What will make the coming years particularly interesting is that another new chapter will begin in the life of the energy sector. For example, with the spread of solar panels, many small producers, who will also be significant energy consumers, will enter the market. As metering and control instruments directly connected to the internet become more widespread, energy market companies will have to manage more and more data. Navitasoft is ready for a new era in the energy industry. In their future plans, they do not dismiss the idea of going public.