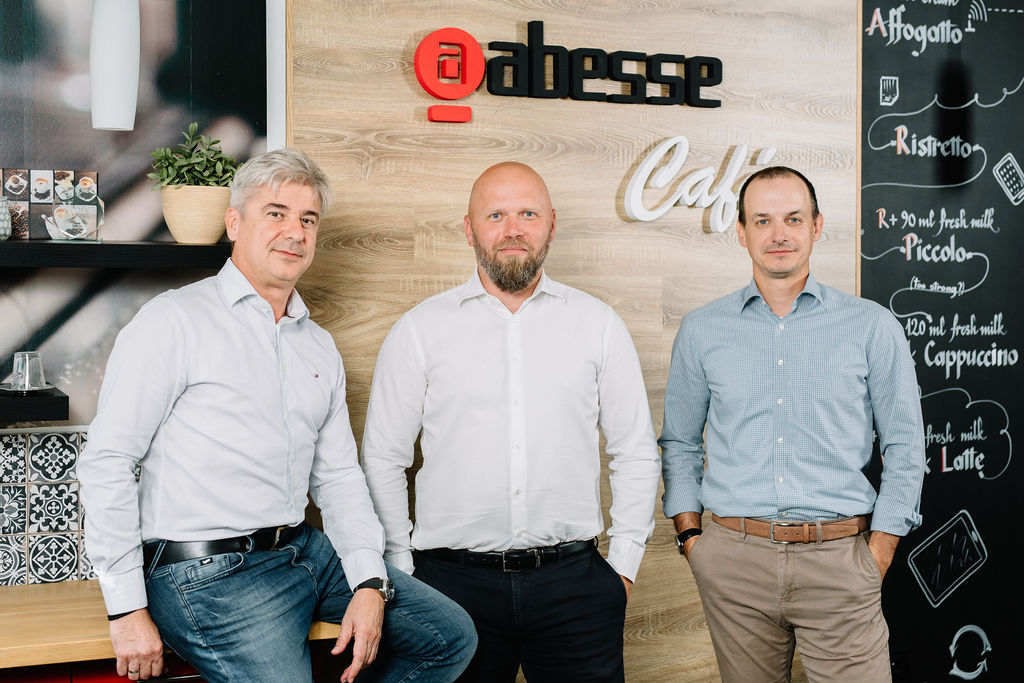 Zoltán Németh Chief Executive Officer, László Vécsi Chief Sales Officer, Dr Norbert Tóth Chief Technical Officer
Although Abesse was still a classic garage company when it was founded in 2003, the company immediately set foot in the business world with great ambition. Right from the start, they have been specifically helping corporate customers to get on the path to digitalisation.
The founder, Balázs Rónai, surrounded himself with a number of senior colleagues, so their assignments were carried out to a very high standard, and clients constantly recommended Abesse to each other.
As the company grew, so did the classic organisational difficul- ties. How to improve the organisation and internal processes while maintaining a family-like, autonomous, and youthful company culture and professionalism. The development of a middle management team started, and then an HR manager was brought in to help this organisational development.
A seasoned professional, he gained experience in company size and growth challenges similar to Abesse at the predecessor of KFKI and, as Deputy CEO at T-Systems, he was coached on the business and organisational development challenges of large corporations.
Balázs Rónai, founder of Abesse, passed away in 2017 due to illness. This sad event also put the management of the time in a big decision situation. Eventually, seven members of the management bought 100% of Abesse, of whom Zoltán Németh and László Vécsi, Sales Director, and Dr Norbert Tóth, Technical Director, bought 75% of Abesse. This business commitment was also matched by very strong human and professional trust, which was essential to drive forward the changes already started.
Many new and talented young people joined the company at that time, and they are still the backbone of the professional background. This rapid growth, the integration of new staff  and the consistent transfer of professional know-how have cer- tainly caused serious difficulties. Changing the organisational structure and developing the professional middle manage- ment further were necessary.
"We're building a company where we try to be cool and flexi- ble, but services to large companies requires professionalism, systematic and quality work performed on time.
We had to ensure this dichotomy with the organisational framework and the organisation of our processes. This is much more of a mindset development issue than a process that can be managed in an engineering way.", said Dr Norbert Tóth, Technical Director
Although there were difficulties the restructuring, the compa- ny emerged stronger from the years of reform. They have been able to maintain their people-centricity while at the same time becoming a smoothly running medium-sized company, where they could offer solid career prospects to the staff who join them.
"We work in an industry where it's particularly true that the key to business success is a stable and motivated team of professionals. If we want to grow as a business, we need to be able to grow in numbers in a way that maintains a profession- ally stable and loyal hard core that guarantees the organic perpetuation of the company culture. The changes made to ensure organisational stability have also resulted in a more positive and more liveable company for employees and, fortunately, employee turnover has also decreased significantly. We value the fact that more and more professionals are looking to us for their long-term future. That's how we can maintain a good professional community with a human face and deliver uncompromising professional quality.", says Zoltán Németh.
Today, most of their work consists of developing business applications and automating business processes. Their IT developments make everyday office work easier in many places. They also created, for example, an ad-planning and settlement system for a national television channel. Besides many other big companies, however, they also have Wizz Air as a partner. Their specialists support online ticket sales and customer service for the airline.
Abesse's appeal has only been enhanced in recent years by the fact that they have remained perfectionists in terms of quality while the market has become diluted around them. They do not take jobs where they cannot deliver 100% as a principle.
Because the large companies they work for expect them to work quickly, they have developed a framework that allows them to come up with a prototype very rapidly. Abesse can build complicated critical systems in 4-5 months that would take most companies years to develop.
Sometimes they have won minor grants, but so far the com- pany has been financed mainly from profits. "Although it hasn't been necessary so far, we aren't against external financing", says Zoltán Németh, the current CEO of Abesse.
The coronavirus pandemic was both a blessing and a curse. With employees working from home, more attention than usual had to be paid to team-building. For example, online events were organised to keep the community together.
"During the first period of the pandemic, we were also in a difficult situation, with a number of our clients shutting down business and halting projects. We work for the biggest Hungarian companies in almost every sector, so fortunately we got back to work quickly. Many have accelerated their digitalisation efforts in response to the pandemic, but others have made important longer-term investments, reassessing their priorities. We were also found by a biotech startup company in New York, which was an active player in the fight against COVID at the time.", said László Vécsi, summing up the business impact of COVID.
Although Abesse has already had several foreign contracts in its life, Zoltán Németh says that there is room for improvement on this front. Right now, one of their short-term goals is to launch a project and portfolio management and planning tool that they want to make successful in Hungary and abroad.
At present, the CEO believes that in five years the company could double in size and the number of employees could increase by one and a half times to 150.