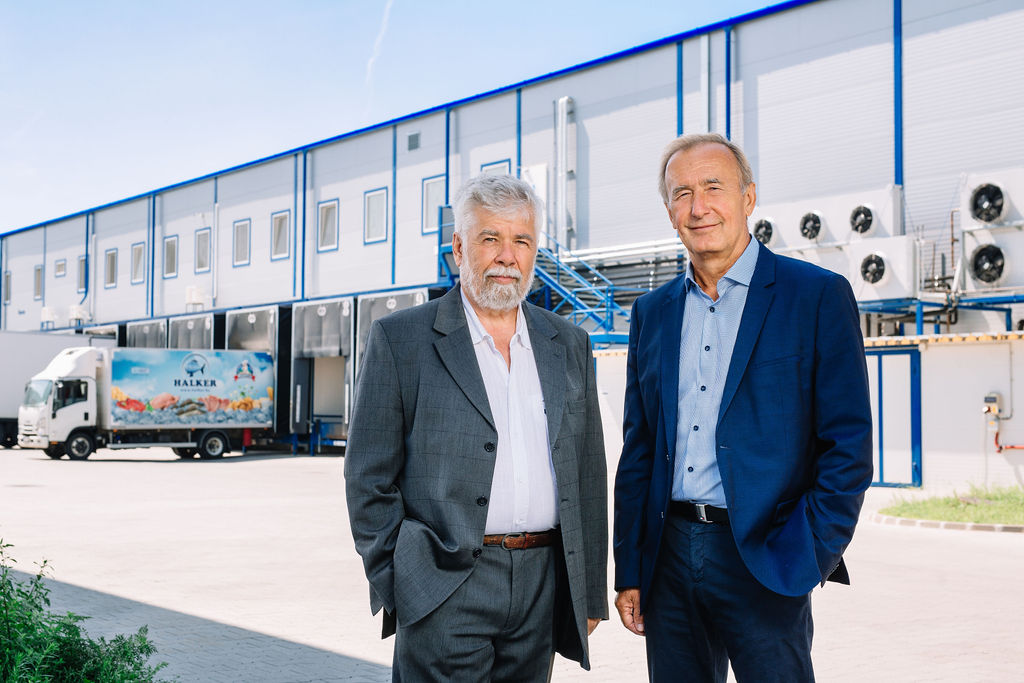 László Gregorics Owner and Managing Director, Zoltán Gödry owner and Managing Director
Many people love fish or love fishing, but it is rare, even worldwide, that a business with an annual turnover of HUF 20 billion grows out of this passion. Zoltán Gödry and László Gregorics have a passion for fish. After finishing high school, they both went to the Kaposvár Agricultural College, where they became friends. Later life took them away from each other, although they both worked in agriculture and had a long-standing plan to start a business together. Thus, in 1990, Halker Kft. was established. The ownership structure has remained unchanged since then, with each of them holding 50% ownership. As with so many other businesses, the first site was a family house.
In the 31 years since it was founded, the company's activities have expanded considerably: today it is mainly involved in the wholesale of frozen meat, vegetables, fruit, fresh meat and fish, dairy products, and non-perishable foods. This is complemented by manufacturing activity, mainly for fish products. They also process frozen vegetables and pre- refrigerated meat. The head office is in Balatonboglár, but they also have sites in Veszprém and Szombathely. Their company group also has interests in Siófok and Pécs, as well as in Slovakia and Croatia among the neighbouring countries. Employing nearly 500 people, they deliver 10,000 items to more than 5,000 customers in the gastronomy and catering sectors with 110 trucks and via three depots. The range of products on offer covers practically everything a kitchen could need.
Halker places a strong emphasis on manufacturing, which distinguishes them from direct competitors. They believe that because manufacturing shortens the supply chain, it can gen- erate additional profits. The owners are still passionate about fish and the fisherman's soup they make in Balatonboglár. In this context, the fish product range still accounts for more than 10% of their sales revenue, despite the continuous expansion of the portfolio. And frozen vegetables are packaged in a composition and presentation adapted to the needs of gastronomy. The third pillar of production is meat processing as a service. The aim is to supply ready-to-cook meat products that meet specific customer requirements and can be used immediately by a restaurant without any additional preparation work.
The company is backed by the MIRBEST purchasing and sales association, which was founded by the owners and other similar companies in 2003. The group currently has 15 member companies, of which Halker serves the largest part of Transdanubia. MIRBEST is an association, the aim of which is for companies to work together to have greater power in the purchasing market to meet the challenges of globalisation.
So the focus was initially primarily on sourcing, but they have since collaborated on building their own brands, product lines and infrastructure. The 100% Hungarian-owned association has a sales revenue of over HUF 100 billion. The total turnover in private-label products is over 20,000 tonnes. "The role of the brand is very important, because if we don't give the customer the opportunity to stick to a brand, he will be forced to decide on the basis of price", says László Gregorics. They believe that the value of the product, and therefore the value of the company, is determined by the value of the brand.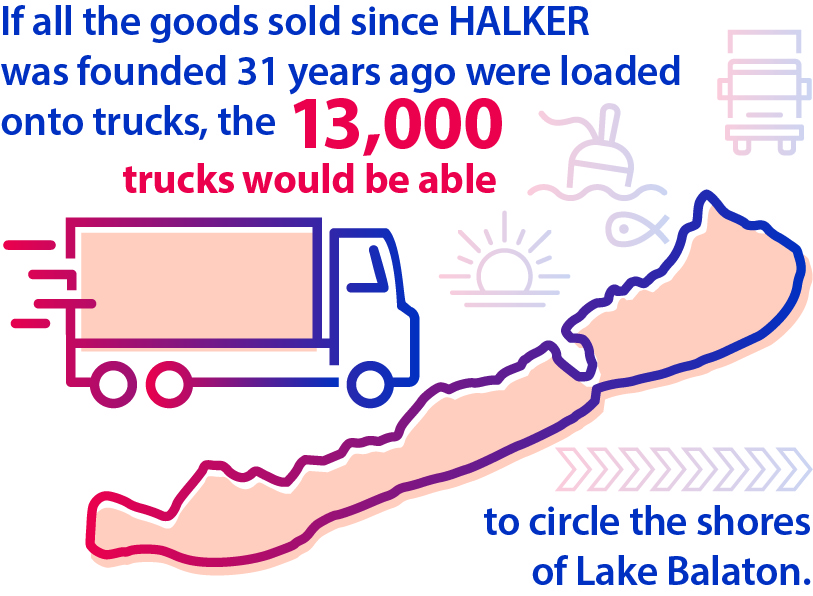 The start-up of Halker was helped a lot by a HUF 3 million Start loan, which they received in 1992, and it was not only Start in the name. They bought a truck, a refrigerator, goods, and this was the first year that they made a significant income, thanks to the loan. "In the first 20 years, we always reinvested all the money; we only took out what we needed to live on", says Zoltán Gödry. The tasks are precisely divided between the two good friends. László Gregorics oversees investments and technical development, while Zoltán Gödry manages the commercial strategy and finances.
Looking back, they see that it would have been better to think bigger at the beginning—to take out a bigger bank loan, to build bigger cold storage. Even so, the fact that the company has always been seen as a family business that trusted its employees is seen as a good way forward. According to the two owners, the market outlook is positive, despite the fact that it is already clear that some of the entrepreneurs and workers who left the catering industry during the pandemic will not return to their profession. "We build like the Japanese. We look at what the customer needs, not what we want to sell at any price", says László Gregorics with the wisdom that could also be their company philosophy.
According to Zoltán Gödry, catering is a dangerous business in this respect. If a restaurant is closed for months and staff are made redundant, there will be a shortage of staff when it opens. "The biggest problem for gastronomy at Lake Balaton is that there are not enough staff", he says. In this situation, products with a higher level of processing are an advantage. In addition, being close to the market is an essential element of Halker's operating model, enabling it to respond immediately to changing customer needs. This includes the fact that the vast majority of orders are received by phone. Although efforts are being made to develop a webshop and orders are also being received by email, this market, by its very nature, still requires a continuous, direct, and verbal interaction with customers. This model requires a great deal of market knowledge, substantial inventories, and enormous flexibility.
The "succession" of the company, i.e. intergenerational succession, is treated consciously: the children of the founders have been working in the business for years. Learning the ropes is a long process, but the future of the company is assured.